This time a very simple post:
A nice PC build for my daughter
MSI B450M Mortar Titanium

G.Skill Aegis DD4-3000 16G

Ryzen 7 2700

MSI Radeon RX Vega 56 Air Boost 8G OC
Two parts I already had were a (not perfect) Xylence power supply and a pretty fast Toshiba 512GB NMVE SSD. If I didn't have had those, I'd have gone with these
Seasonic Focus Plus Gold 650W

Samsung 970 EVO Plus 512GB
Some details:
I picked the Antec case due to my really good experiences with the Antec Solo years ago. I used to have 2*15K U320 disks in that one and it kept them silent – it was just fine really. So I expected about the same for the newer, larger tower. I was a bit worried about the dust filters – would they be able to handle two cat's hair production?
The RAM is cheap so if you want to also use this system for work (VMs) then get 2 of these kits for having 64GB. The board has two M.2 slots so you can also add a 1TB 970EVO or an Optane if you would like to play with ZFS (as ZIL). Generally, the performance difference between the 512GB and 1TB EVO is minimal. This a change over earlier times, i.e. the 256GB vs. 512GB Pro's. Probably the reasons are the larger SLC cache areas and the 3-core processor having more capacity. In any case, that's why I had picked the 512GB EVO for the original build.
The Vega 54 is a compromise – MSI overprices the 1660Ti and the Vega 64 is still a bit too expensive. The Vega 54 has – at least with MSI – the best price/money.
Build notes:
The case is stable, made of metal, has the PSU on the floor and a pretty OK cable management.
It includes some dampening mats on the doors, the disk sleds are well-made and also with some acoustic dampening in the doors. Everything is just solid and fits perfectly! The fans are a lot better than what I got from NZXT years ago. A downer was that the ATX shield gets mounted with some free space at the sides. I don't get that and sincerely thing it was a CAD mistake they fixed in hardware. Also they were a bit stingy on the mobo screws and didn't include M.2 screws. Simple things that make me happy if done and a bit unhappy if not. Also, the case is not really wanting you to have a DVD/Bluray drive or such. It seems there's really NO slot. So you'll need a USB3.0 drive on your desk instead. Oh, and the screws are all in one of the drive cages. I spent some time searching. I didn't find a way to take of the cable management shield and the graphics card holder got lose, but it was, uh. it was fine.
Here's where you find the screws:
In summary the case is a bit heavy, but nonetheless really one of the best cases I've ever laid my hands on.
The mainboard and the graphics card BOTH some protective shrink wrap on them, be sure to search and check you find all of it. The graphics card also had a protector on the PCIe connector. Waste of time really, but ok.
The board looks gorgeous and the layout is really good.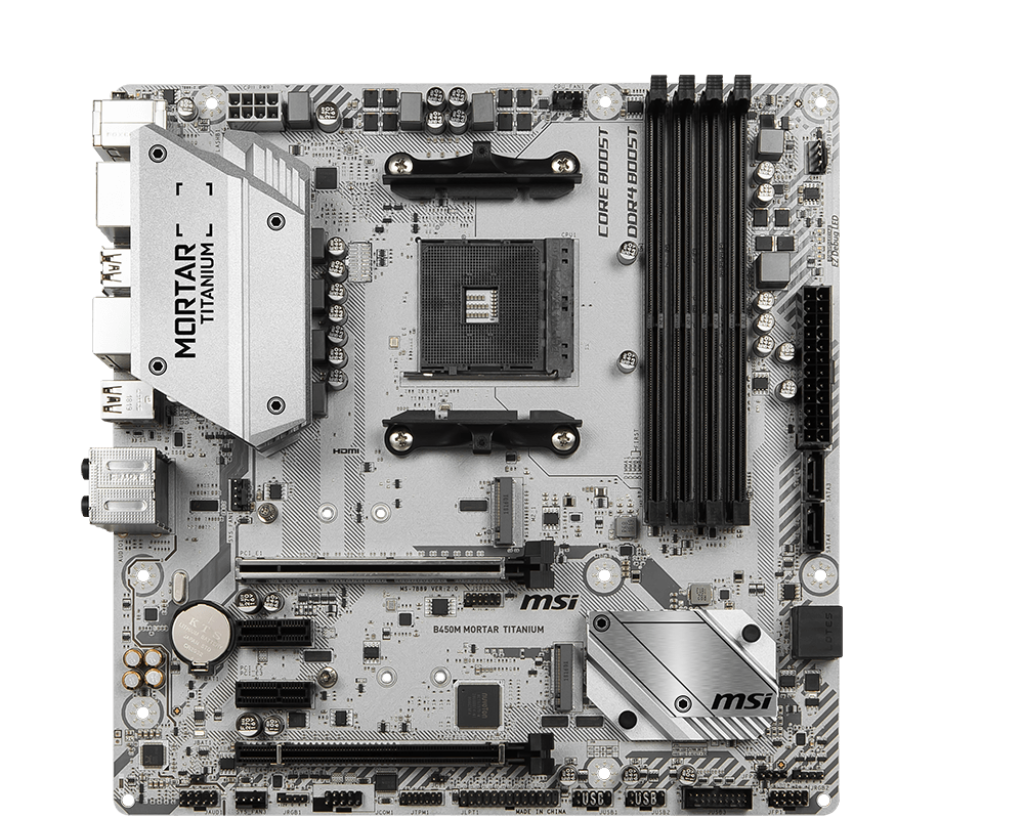 You just need to make sure to put cables into SATA0/1 before putting the GFX card. The M.2 SSD you can even mount as last time. The stock AMD fan required me to remove the fan mounts from the board and screw it directly on the retention bracket. I hated that part a lot, but it's not MSI's fault. Something to be aware of. The stock AMD fan is also bit noisy but the case takes care of that. The case also supported a HDMI port on the top front IO panel, but the board didn't have an internal HDMI connector. I didn't even know such a thing can exist. M.2 screws came included with the mainboard! I found them after searching for alternatives for some time. At this point I also noticed that the case doesn't have HDD LED, Reset button or any of that. But TBH I didn't care. On the really weird side the mainboard still has a LPT header. Just in case you still got your old Laserjet 4 around, I guess?
The graphics card is one large brick of computer stuff, so your only interaction is to take of the PCIe protector 2-3 pieces of protective stickers, and plug it in, and the power, too. It wants 2*8pin power and seems to be able to draw like 180W. I'm pretty worried if the old PSU can do that by any means. It has 2*8pin but in reality it's just 1*8pin. Well, if the box crashes under more load I'll just go and replace the PSU. Likely it'll be good enough for League and such stuff. It's 650W and the box should take around 350W at MAX load. The card has some weird LED stripe that informs you about – i think – it's power draw.
Finally, the SSD? By the spec it has half the write perf of the EVO and I have to tell you that windows shuts down in about 0.5s and boots in something like 3 or 4 seconds.
The price of the box is – depending on luck – somewhere between 900 and 1150 euro. All parts are good enough for 5+ years, but also can be thrown out without having wasted a lot of money. I think the only bad thing is that it's not PCIe 4.0 yet. (as far as I know).
I wanted her to have a box that isn't just good enough for a year and then a few years later isn't even worth fixing/upgrading (like the current one she did have), but instead something that is a good investment. I think this is gonna do the job pretty well.
If I'd build it for me, I'd probably put two SSDs and a lower-clock-more-cores CPU, 32GB RAM (my old PC from basically 2010 has 16GB now) and of course I'd ta lower-spec GFX card. Maybe I'd also get a different CPU fan, but it wasn't really bad.
Ah yeah, windows. Fuck that. I am glad it installed so fast and that I didn't have to fix daughter's old PC.
Gonna install chocolatey for saying "choco install chromium" and I wish I could have used Windows LTSB so she'd not even have IE installed.
Happy easter everyone.